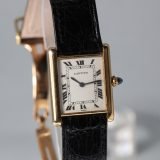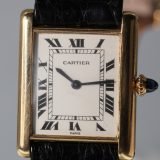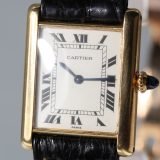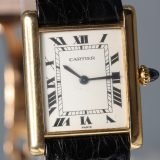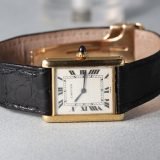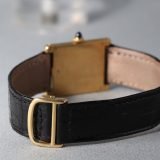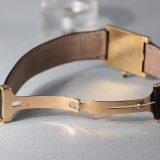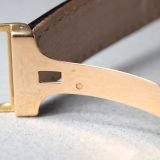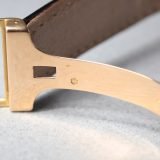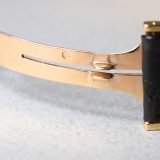 CARTIER TANK EXTRA THIN OR JAUNE 18K 750 DEPLOYANTE 18K FROM 1990's
Brand: Cartier
Model: Tank extra plate
Movement : Manual
Year: 1990's
Case: Beau boitier de forme carré LA TANK en version extra plate mouvement piguet. Avec ses 4 vis de fond si particulier à ce modèle en or jaune 18k. Appelé Tank par sa forme si particulière. Numérotation cartier encore bien lisible ainsi que les poinçons d'or 18k bien conservé. Bel état de conservation et boitier quasiment pas polie.
Dial: Beautiful original white dial with beautiful markings on the indexes. Cartier signature at 12 o'clock and Paris at 6 o'clock. Nice general patina.
Bracelet : Cuir avec boucle depllyante en or 18k non réglable et poinçonnés
Accessories: None
Return policy
Return policy
Return policy All watches sold have a 3 days return policy. If you are not satisfied with your purchase, please contact us by email or phone, then return the watch in the exact same condition as received and we will refund you within 10 days after we fully inspectied the watch received back in our offices at your expense. We will not refund any watches beyond the 3-days inspection period following the delivery. Paris Heure cannot be held responsible for any damage or loss from the date of delivery of the watches. If there is a problem when the watch is sent back the client Paris Heure cannot be held responsible , the client has to take his own insurance with the shipping company at his cost, we can help you with this.
Delivery
Delivery
Delivery : Buyers are responsible for all additional customs fees, duties, or taxes. All shipments are sent fully insured via Malca Amit who primarily uses Fedex. A tracking number will be given to you after collection of the package. In case of loss or theft of packages, a refund will only be made after approval of the insurance claim by our insurance provider Malca Amit.
Guarantee
Guarantee
Guarantee : All watches are guaranteed for 6 months for normal use. For vintage watches that are not waterproof, there is no guarantee of water resistance. In the caseof a water resistance problem linked to the non-screwing of the crown, the warranty is also void. In the case of shocks to the watch, the warranty is void. Normal use only qualifies for the 6-month warranty.
Description
Our opinion: Un classique indémodable, intemporel encore au catalogue Cartier. Ce modèle a été détourné par Cartier depuis les années 50, en or, diamants haute joaillerie… Mouvement mécanique base Piguet extra plat très haut de gamme, boite en or jaune 18K et montée sur un bracelet avec boucle déployante en or 18K non réglable d'époque, la montre est en parfait état. C'est la vraie tank extra plate d'époque !