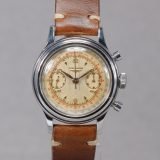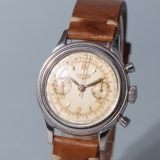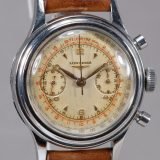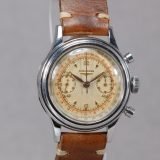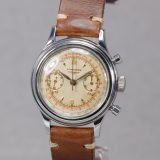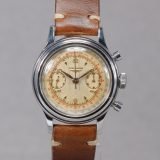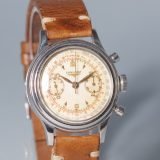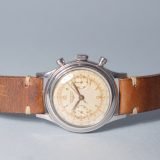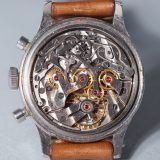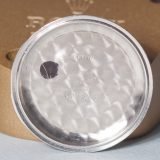 LONGINES VINTAGE CHRONO VINTAGE REF 6075-3 CAL 30CH IN STEEL ( STOCK PARIS HEURE )
Brand: LONGINES
Model: CHRONO WATERPROOF TANCHE 30CH
Reference: 6075-3
Year: 1960'S
Serial: 773XXXX
Movement: CAL 30CH
Case: Lightly polished case which retains its original shape with angles still present and a very thick case. The watch has also been worn very little with few signs of wear and a lightly marked but unstitched caseback.
Dial: Rare and in good condition, In good condition, original unpainted with beautiful tri-color tachymetry.
Diameter: 37mm
Strap: Vintage style leather strap.
Accessories: None
Return policy
Return policy
Return policy All watches sold have a 3 days return policy. If you are not satisfied with your purchase, please contact us by email or phone, then return the watch in the exact same condition as received and we will refund you within 10 days after we fully inspectied the watch received back in our offices at your expense. We will not refund any watches beyond the 3-days inspection period following the delivery. Paris Heure cannot be held responsible for any damage or loss from the date of delivery of the watches. If there is a problem when the watch is sent back the client Paris Heure cannot be held responsible , the client has to take his own insurance with the shipping company at his cost, we can help you with this.
Delivery
Delivery
Delivery : Buyers are responsible for all additional customs fees, duties, or taxes. All shipments are sent fully insured via Malca Amit who primarily uses Fedex. A tracking number will be given to you after collection of the package. In case of loss or theft of packages, a refund will only be made after approval of the insurance claim by our insurance provider Malca Amit.
Guarantee
Guarantee
Guarantee : All watches are guaranteed for 6 months for normal use. For vintage watches that are not waterproof, there is no guarantee of water resistance. In the caseof a water resistance problem linked to the non-screwing of the crown, the warranty is also void. In the case of shocks to the watch, the warranty is void. Normal use only qualifies for the 6-month warranty.
Description
Our opinion: The Longines 13ZN chronographs are exploding in auctions and production at the time was not that high, especially in waterproof case with round pushers. This is part of the next generation equipped with the 30CH movement of very good quality. Large diameter of 37mm for the time and tricolor dial with tachymetry. Very beautiful patina. Rare watch in waterproof steel version and in perfect condition.