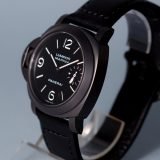 PANERAI LUMINOR PAM 26 K DESTRO PVD FULL SET ACIER from 2009 ( STOCK PH WATCHES )
Brand: PANERAI
Model: LUMINOR PAM 26 DESTRO PVD
Reference: PAM26
Year: 2009
Serial : N° 954/1000
Movement : MECA OP II 56H POWER RESERVE
Case: Boitier traité en PVD jamais polie. Aucun chocs important ou rayures sur le boitier. Fond de boite en parfait état et filetage nickel. Le pvd reste en bon état général de léger manque sont présent mais très peu visible au poignet. Montre de gaucher avec remontoir inversé.
Dial: Beau cadran sandwich noir en parfait état au luminova.
Diameter : 44mm
Bracelet: Bracelet cuir noir Panerai d'origine.
Accessories: Boite et papiers d'origine et certificat numéroté 954/1000 car c'est une édition limitée. Bracelet caoutchouc supplémentaire et tournevis.
Return policy
Return policy
Return policy All watches sold have a 3 days return policy. If you are not satisfied with your purchase, please contact us by email or phone, then return the watch in the exact same condition as received and we will refund you within 10 days after we fully inspectied the watch received back in our offices at your expense. We will not refund any watches beyond the 3-days inspection period following the delivery. Paris Heure cannot be held responsible for any damage or loss from the date of delivery of the watches. If there is a problem when the watch is sent back the client Paris Heure cannot be held responsible , the client has to take his own insurance with the shipping company at his cost, we can help you with this.
Delivery
Delivery
Delivery : Buyers are responsible for all additional customs fees, duties, or taxes. All shipments are sent fully insured via Malca Amit who primarily uses Fedex. A tracking number will be given to you after collection of the package. In case of loss or theft of packages, a refund will only be made after approval of the insurance claim by our insurance provider Malca Amit.
Guarantee
Guarantee
Guarantee : All watches are guaranteed for 6 months for normal use. For vintage watches that are not waterproof, there is no guarantee of water resistance. In the caseof a water resistance problem linked to the non-screwing of the crown, the warranty is also void. In the case of shocks to the watch, the warranty is void. Normal use only qualifies for the 6-month warranty.
Description
Our opinion: Panerai a une vraie histoire militaire en collaboration avec Rolex. Cette marque de Florence a su se démarquer à l'époque par son design, de montres ultra résistantes destiné aux plongeurs de l'armée dans les années 40. Longtemps oublié puis relancé dans les années pré Vendôme avec des séries très limitée. Panerai a su créer de nouveaux modèles souvent inspirés du passé avec un design unique. Celle-ci est très intéressante car peu de grandes marques produisent des montres de gauchers avec remontoir inversé visant à plus de confort porté au poignet droit. De plus son traitement au Pvd en fait une série rare et peu rééditée. Limitée à 1000 exemplaires cette montre a beaucoup de présence au poignet en état quasi neuf avec sa boite ses papiers et tous ces accessoires.