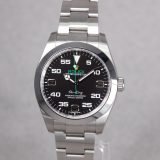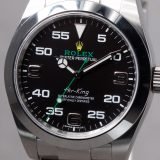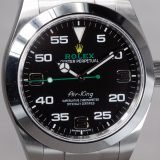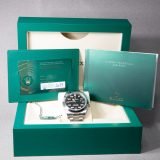 ROLEX AIRKING REF 116900 FULL SET COMME NEUVE from 2021
Brand: Rolex
Model: Airking
Movement : Automatic
Reference: 116900
Diameter : 39mm
Year: 2021
Case: Beau boitier parfait état porté 3 fois.
Dial: Beau cadran noir d'origine explorer dial et index arabes.
Bracelet: Acier d'origine porté 3 fois.
Accessories: Original box and papers.
Return policy
Return policy
Return policy All watches sold have a 3 days return policy. If you are not satisfied with your purchase, please contact us by email or phone, then return the watch in the exact same condition as received and we will refund you within 10 days after we fully inspectied the watch received back in our offices at your expense. We will not refund any watches beyond the 3-days inspection period following the delivery. Paris Heure cannot be held responsible for any damage or loss from the date of delivery of the watches. If there is a problem when the watch is sent back the client Paris Heure cannot be held responsible , the client has to take his own insurance with the shipping company at his cost, we can help you with this.
Delivery
Delivery
Delivery : Buyers are responsible for all additional customs fees, duties, or taxes. All shipments are sent fully insured via Malca Amit who primarily uses Fedex. A tracking number will be given to you after collection of the package. In case of loss or theft of packages, a refund will only be made after approval of the insurance claim by our insurance provider Malca Amit.
Guarantee
Guarantee
Guarantee : All watches are guaranteed for 6 months for normal use. For vintage watches that are not waterproof, there is no guarantee of water resistance. In the caseof a water resistance problem linked to the non-screwing of the crown, the warranty is also void. In the case of shocks to the watch, the warranty is void. Normal use only qualifies for the 6-month warranty.
Description
Our opinion: La airking avec un cadran explorer et index arabes noir mat en état neuf! Cette référence a été changée en 2022 et très peu livrée encore donc impossible à obtenir en boutique vu que celle-ci n'est plus produite. Elle est de 2021 et portée3  fois par son propriétaire.