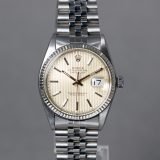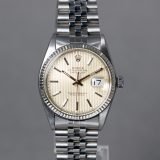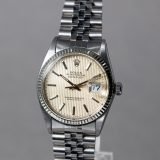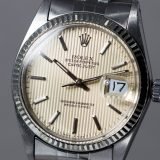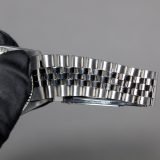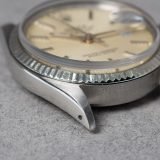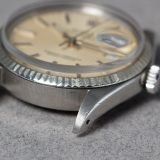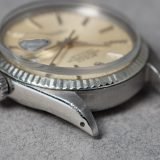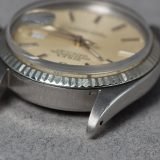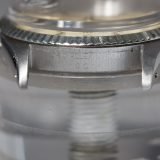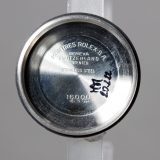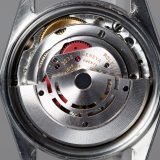 ROLEX DATEJUST ACIER REF 16014 TAPESTRY DIAL from 1981
Brand: Rolex
Model: Day date
Movement : Automatic CAL 3035
Reference: 16014
Serial : 711XXXX
Diameter : 36mm
Year: 1980
Case: Very beautiful case, not too polished, original fluted bezel in white gold. The angles are not too rounded, no visible shocks, little scratch at 2. Some little signs of wearing. The case remains very thick and in good general condition. Bezel in perfect condition.
Dial: Beautiful silver dial called "tapestry dial" with its beautiful streaks which gives it a unique and vintage look. These dials often have some paint defects with the humidity caused by time but which gives a beautiful patina and a unique character to the watch. These dials are fragile but also very rare.
Bezel: Beautiful white gold fluted bezel in very good condition
Bracelet : Jubilee band steel in good condition ref 62510H endlink 555Bet clasp code E4 from 1980.
Accessories: None
Return policy
Return policy
Return policy All watches sold have a 3 days return policy. If you are not satisfied with your purchase, please contact us by email or phone, then return the watch in the exact same condition as received and we will refund you within 10 days after we fully inspectied the watch received back in our offices at your expense. We will not refund any watches beyond the 3-days inspection period following the delivery. Paris Heure cannot be held responsible for any damage or loss from the date of delivery of the watches. If there is a problem when the watch is sent back the client Paris Heure cannot be held responsible , the client has to take his own insurance with the shipping company at his cost, we can help you with this.
Delivery
Delivery
Delivery : Buyers are responsible for all additional customs fees, duties, or taxes. All shipments are sent fully insured via Malca Amit who primarily uses Fedex. A tracking number will be given to you after collection of the package. In case of loss or theft of packages, a refund will only be made after approval of the insurance claim by our insurance provider Malca Amit.
Guarantee
Guarantee
Guarantee : All watches are guaranteed for 6 months for normal use. For vintage watches that are not waterproof, there is no guarantee of water resistance. In the caseof a water resistance problem linked to the non-screwing of the crown, the warranty is also void. In the case of shocks to the watch, the warranty is void. Normal use only qualifies for the 6-month warranty.
Description
Our opinion: Une Rolex simple, intemporelle, lunette cannelée d'origine en or blanc référence 16014, classique, increvable, indémodable, pouvant aussi bien convenir à un homme ou une femme et qui donne la date. Belle datejust vintage des années 70, mouvement automatique, verre plexi, couronne et fond de boite visés. Cadran tapestry rare et très beau au poignet ref 16014 montée sur une lunette en or blanc. Une belle montre vintage moins cher que les modernes en verre saphir !! Livrée avec son bracelet jubilé acier.