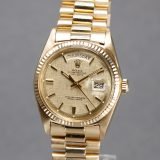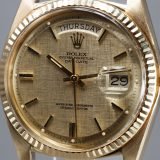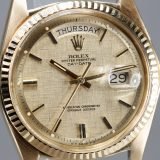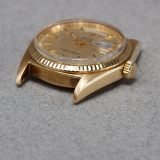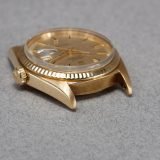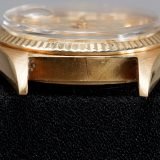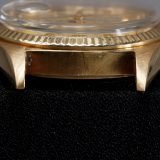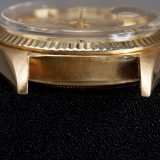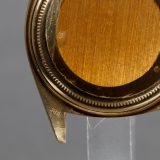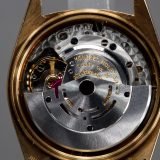 ROLEX DAYDATE REF 1803 GOLD LINEN DIAL OR 18K / BRACELET 18K from 1972 ( STOCK PH WATCHES )
Brand: Rolex
Model: Day Date
Movement : Automatique cal 3175
Reference: 1803 OR JAUNE
Diameter : 36mm
Year: 1972
Serial : 340XXXX
Case: Très beau boitier très peu polie en or jaune 18K très épais et avec des angles parfait. Très lourde au poignet. Lunette cannelé parfaite. Les premières daydate avec verre plexi des années 70.
Dial: Beau cadran LINEN DIAL sigma très rare souvent changé par Rolex en service, en or jaune parfait aucuns défauts et d'origine ultra rare marque «σ t swiss t σ ». Cadran très rare et recherchée. Dateur en anglais d'origine.
Bracelet: Bracelet president Rolex en or jaune 18K 750.
Accessories: None
Return policy
Return policy
Return policy All watches sold have a 3 days return policy. If you are not satisfied with your purchase, please contact us by email or phone, then return the watch in the exact same condition as received and we will refund you within 10 days after we fully inspectied the watch received back in our offices at your expense. We will not refund any watches beyond the 3-days inspection period following the delivery. Paris Heure cannot be held responsible for any damage or loss from the date of delivery of the watches. If there is a problem when the watch is sent back the client Paris Heure cannot be held responsible , the client has to take his own insurance with the shipping company at his cost, we can help you with this.
Delivery
Delivery
Delivery : Buyers are responsible for all additional customs fees, duties, or taxes. All shipments are sent fully insured via Malca Amit who primarily uses Fedex. A tracking number will be given to you after collection of the package. In case of loss or theft of packages, a refund will only be made after approval of the insurance claim by our insurance provider Malca Amit.
Guarantee
Guarantee
Guarantee : All watches are guaranteed for 6 months for normal use. For vintage watches that are not waterproof, there is no guarantee of water resistance. In the caseof a water resistance problem linked to the non-screwing of the crown, the warranty is also void. In the case of shocks to the watch, the warranty is void. Normal use only qualifies for the 6-month warranty.
Description
Our opinion: La daydate président en or18k avec son cadran linen dial sigma est une montre rare, intemporelle et élégante de la collection Rolex vintage. Très classe avec ses aiguilles d'origine. Cadran et aiguilles avec tritium d'origine marqué « σ t swiss t σ » la majorité de ceux sont en t swiss t donc plus tardif et non vendue d'origine avec la montre. La montre est dans un état proche du neuf peut être jamais polie avec un boitier très épais et un cadran parfait tout d'origine de 1972 ! La montre est montée sur un bracelet président en or 18K. Une magnifique montre en or 18k daydate d'origine mais si différente des autres daydate un vrai model très spécial et recherchée par les collectionneurs au vu de son design incroyable et de sa rareté. À un prix abordable comparé aux modèles actuels en boutique ! Un vrai collector totalement unisexe.