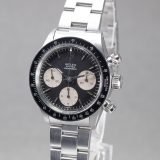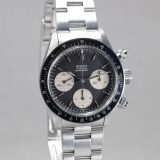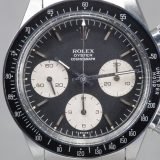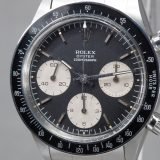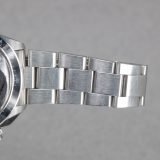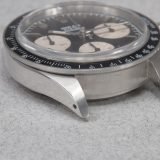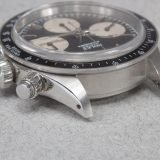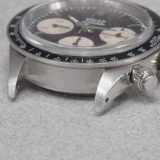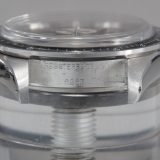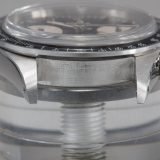 ROLEX DAYTONA REF 6263 NICE BLACK DIAL T SWISS T from 1974 ( STOCK PH WATCHES )
Brand: ROLEX
Model: DAYTONA
Reference: 6263
Year: 1972
Serial : 364XXXX
Poussoirs: MK1 d'origine
Movement : MECA VALJOUX 727
Case: Boitier très peu polie qui garde sa forme d'origine avec des angles parfaits. Une boite fine bien conservée comme à l'origine suivant les cotes de la marque. La montre a dû être très peu portée aussi avec peu de marques d'usures ni de chocs importants ou de perte de matière.
Dial: Cadran noir t swiss t only la première version avec une belle patine des index tritium parfaits ainsi que les aiguilles qui matchent bien. Quasiment aucuns défauts dans les compteurs blancs très brillants encore et très belle patine orangée des index tritium.
Diameter : 37mm
Bracelet: Bracelet blindé plus récent réf 78350 19 et endlink 571 clasp code H.
Accessories: None
Return policy
Return policy
Return policy All watches sold have a 3 days return policy. If you are not satisfied with your purchase, please contact us by email or phone, then return the watch in the exact same condition as received and we will refund you within 10 days after we fully inspectied the watch received back in our offices at your expense. We will not refund any watches beyond the 3-days inspection period following the delivery. Paris Heure cannot be held responsible for any damage or loss from the date of delivery of the watches. If there is a problem when the watch is sent back the client Paris Heure cannot be held responsible , the client has to take his own insurance with the shipping company at his cost, we can help you with this.
Delivery
Delivery
Delivery : Buyers are responsible for all additional customs fees, duties, or taxes. All shipments are sent fully insured via Malca Amit who primarily uses Fedex. A tracking number will be given to you after collection of the package. In case of loss or theft of packages, a refund will only be made after approval of the insurance claim by our insurance provider Malca Amit.
Guarantee
Guarantee
Guarantee : All watches are guaranteed for 6 months for normal use. For vintage watches that are not waterproof, there is no guarantee of water resistance. In the caseof a water resistance problem linked to the non-screwing of the crown, the warranty is also void. In the case of shocks to the watch, the warranty is void. Normal use only qualifies for the 6-month warranty.
Description
Notre avis : Le modèle de Rolex Cosmograph Daytona est un chronographe de sport lancé en 1963 par la société Rolex SA. Le Cosmograph Daytona fait partie de la catégorie de montres professionnelles au sein de la gamme Rolex. Il a été conçu à l'origine pour les pilotes de course. Quatre générations de Daytona ont vu le jour respectivement en 1963, 1988, 2000 et 2016. La première était dotée d'un mouvement à remontage manuel, la deuxième d'un mouvement à remontage automatique et la troisième et quatrième d'un mouvement manufacture Rolex. Le record du monde en vente aux enchères est une Rolex Daytona ayant appartenu à Paul Newman et vendue chez Philips a NYC pour 17,75 millions de dollars en 2017. L'original est donc la version à 4 chiffres dont fait partie celle-ci. La nôtre est en parfait état de conservation peu polie avec un cadran ou les compteurs sont encore bien blancs car souvent noircis par le temps et les points de tritium ont une superbe patine.