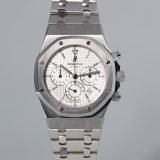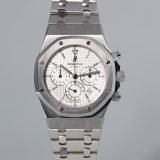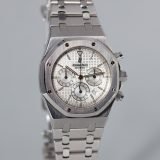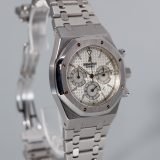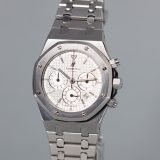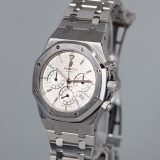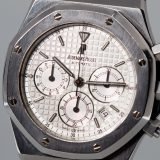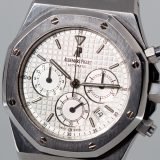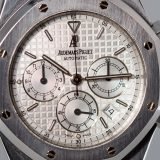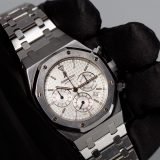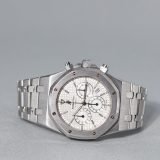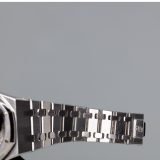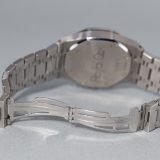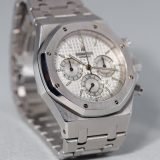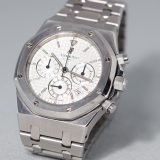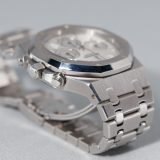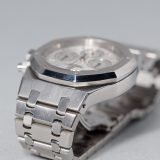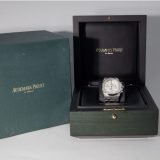 AUDEMARS PIGUET ROYAL OAK KASPAROV REF 25860 SILVER From 1990's
Brand: Audemars Piguet
Model: Royal oak Kasparov
Reference: 25860ST
Year: 1990's
Serial : 421X
Case: Beau boitier de 39MM pas trop polie en bel état de conservation. Les angles restent bien présents et l'ensemble reste homogène. Lunette en bon état. Belle épaisseur du boitier.
Dial: Beau cadran silver blanc d'origine en parfaite avec sa grande tapisserie et une belle couleur brillante encore bien présente.
Bracelet: D'origine avec un maillon supplémentaire pas trop détendu par le temps.
Accessories: Certificat des archives et boite AP
ON HOLD
Return policy
Return policy
Return policy All watches sold have a 3 days return policy. If you are not satisfied with your purchase, please contact us by email or phone, then return the watch in the exact same condition as received and we will refund you within 10 days after we fully inspectied the watch received back in our offices at your expense. We will not refund any watches beyond the 3-days inspection period following the delivery. Paris Heure cannot be held responsible for any damage or loss from the date of delivery of the watches. If there is a problem when the watch is sent back the client Paris Heure cannot be held responsible , the client has to take his own insurance with the shipping company at his cost, we can help you with this.
Delivery
Delivery
Delivery : Buyers are responsible for all additional customs fees, duties, or taxes. All shipments are sent fully insured via Malca Amit who primarily uses Fedex. A tracking number will be given to you after collection of the package. In case of loss or theft of packages, a refund will only be made after approval of the insurance claim by our insurance provider Malca Amit.
Guarantee
Guarantee
Guarantee : All watches are guaranteed for 6 months for normal use. For vintage watches that are not waterproof, there is no guarantee of water resistance. In the caseof a water resistance problem linked to the non-screwing of the crown, the warranty is also void. In the case of shocks to the watch, the warranty is void. Normal use only qualifies for the 6-month warranty.
Description
Our opinion: Les Royal Oak ont plus que la cote récemment et explosent les records depuis quelques mois. De plus, on fête les 50 ans du modèle cette année avec beaucoup d'évènements promotionnels qui se préparent. Alors saisissez l'opportunité d'en obtenir une plus produites depuis quelques années une vraie néo vintage, avec un cadran grande tapisserie magnifique et si particulier avec tant de caractère au poignet. Dans sa taille jumbo originelle des années 90 en 39mm.Très bel exemplaire.