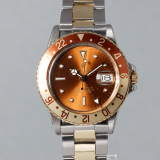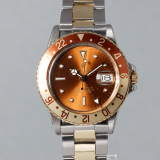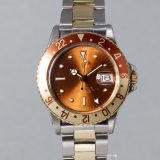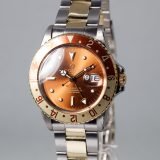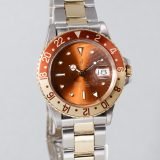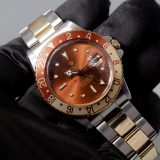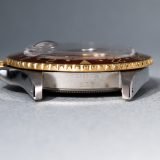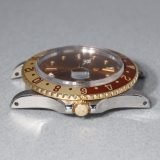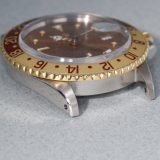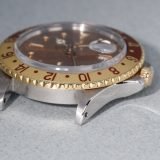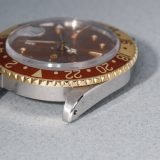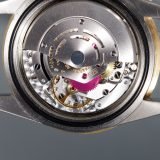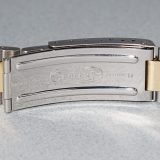 ROLEX GMT MASTER ROOT BEER REF 1675/3 OR ACIER BROWN DIAL from 1978
Brand:   ROLEX
Model: GMT-MASTER TIGER EYE
Reference: 1675 /3
Year: 1978
Serial : 520XXXX
Bezel: Beautiful original insert that turns brown and light yellow original very beautiful patina quite unique and sought after.
Case: Very nice case lighlty polished very thick and with perfect angles, no shock or significant scratches. The chamfers are still present and marked. Excellent condition of the still thick case.
Movement : Automatique cal 3175
Dial: Beau cadran TIGER EYE marron virant un peu au rouge et changeant de tons suivant la lumière exposée  d'origine parfait avec des beaux indexes nipple tritium caractéristique des 1675/3 avec une belle patine de plus en plus recherchée depuis sa réédition en or rose et acier.
Diameter : 40 MM
Bracelet: Oyster plié or et acier réf 7836 endlink 593 claps code 1971 antérieur à la montre.
Return policy
Return policy
Return policy All watches sold have a 3 days return policy. If you are not satisfied with your purchase, please contact us by email or phone, then return the watch in the exact same condition as received and we will refund you within 10 days after we fully inspectied the watch received back in our offices at your expense. We will not refund any watches beyond the 3-days inspection period following the delivery. Paris Heure cannot be held responsible for any damage or loss from the date of delivery of the watches. If there is a problem when the watch is sent back the client Paris Heure cannot be held responsible , the client has to take his own insurance with the shipping company at his cost, we can help you with this.
Delivery
Delivery
Delivery : Buyers are responsible for all additional customs fees, duties, or taxes. All shipments are sent fully insured via Malca Amit who primarily uses Fedex. A tracking number will be given to you after collection of the package. In case of loss or theft of packages, a refund will only be made after approval of the insurance claim by our insurance provider Malca Amit.
Guarantee
Guarantee
Guarantee : All watches are guaranteed for 6 months for normal use. For vintage watches that are not waterproof, there is no guarantee of water resistance. In the caseof a water resistance problem linked to the non-screwing of the crown, the warranty is also void. In the case of shocks to the watch, the warranty is void. Normal use only qualifies for the 6-month warranty.
Description
Our opinion: La GMT est devenue plus mythique que la Submariner récemment avec une très longue attente du retour de la lunette Pepsi. Celle-ci a sa sortie crée un effet de spéculation énorme sur toutes les GMT et les collectionneurs les apprécient encore plus que par le passé. Celle-ci est rare dans sa version or acier référence 1675/3 avez un bracelet plié or et acier rare et en bon état. Cadran brillant tiger eye nipple marron avec une belle patine et un insert qui matche si bien cette patine avec un rappel de l'orangé du cadran marron. Une montre de collection si belle avec tant de caractère. La montre est peu polie, encore épaisse, modèle extrêmement rare dans cette configuration. La vraie valeur investissement de chez Rolex.