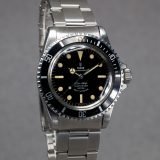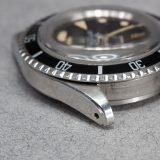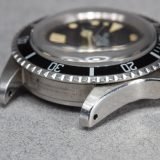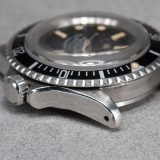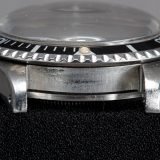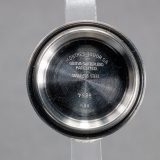 TUDOR SUBMARINER REF 7928 ULRA RARE 4 LINES GILT from 1966 ( STOCK PH WATCHES )
Brand: Tudor
Model: Submariner
Movement : Auto
Reference: 5513
Diameter : 40mm
Year: 1966
Serial : 1569XXX
Back case : VI 66 !!!
Case: Beau boitier encore épais et avec des angles encore bien présents et des chanfreins parfaitement visible peut-être jamais polie . Lunette en parfait état. Insert long five d'origine très rare. Aucuns chocs visibles. La montre a été parfaitement préservée par le temps et reste belle et homogène.
Dial: Beau cadran d'origine ULTRA RARE meter first zinc sulfite dial et surtout LE SEUL ET UNIQUE vrai gilt comme chez Rolex laquée et pas satinée comme tous les autres Tudor gilt d'avant, avec une très belle patine homogène. C'est la toute première et dernière version de cadran gilt laqué utilisée par TUDOR avec la minuterie en doré et écritures blanche T SWISS T.  Très bel ensemble général. Cadran en parfait état avec aucuns défauts. Les aiguilles sont parfaitement matching à la patine des indexes.
Bracelet : Acier Rolex rivéte de 66 en parfait état
Accessories: None
Return policy
Return policy
Return policy All watches sold have a 3 days return policy. If you are not satisfied with your purchase, please contact us by email or phone, then return the watch in the exact same condition as received and we will refund you within 10 days after we fully inspectied the watch received back in our offices at your expense. We will not refund any watches beyond the 3-days inspection period following the delivery. Paris Heure cannot be held responsible for any damage or loss from the date of delivery of the watches. If there is a problem when the watch is sent back the client Paris Heure cannot be held responsible , the client has to take his own insurance with the shipping company at his cost, we can help you with this.
Delivery
Delivery
Delivery : Buyers are responsible for all additional customs fees, duties, or taxes. All shipments are sent fully insured via Malca Amit who primarily uses Fedex. A tracking number will be given to you after collection of the package. In case of loss or theft of packages, a refund will only be made after approval of the insurance claim by our insurance provider Malca Amit.
Guarantee
Guarantee
Guarantee : All watches are guaranteed for 6 months for normal use. For vintage watches that are not waterproof, there is no guarantee of water resistance. In the caseof a water resistance problem linked to the non-screwing of the crown, the warranty is also void. In the case of shocks to the watch, the warranty is void. Normal use only qualifies for the 6-month warranty.
Description
Our opinion: Un très beau et rare exemplaire de la Submariner vintage référence 7928 ,meter first GILT au zinc sulfite, toute première et dernière exécution de ce cadran gilt devenu mythique , très beau cadran avec une belle patine homogène et très réactive aux UV, bracelet acier riveté et mouvement en parfait état de fonctionnement. La montre est en parfait état peu polie mais de manière générale très bien entretenue… Très bel insert bleuté long five rare !