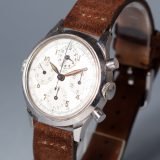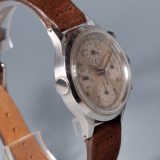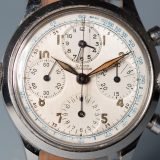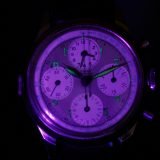 GIRARD PERREGAUX AEROCOMPAX CHRONO ACIER VINTAGE ( STOCK PH WATCHES )
Brand: GIRARD PERREGAUX
Model: CHRONO AEROCOMPAX ETANCHE
Reference: 22432
Year: 1950'S
Serial : 785XXX
Movement : Universal Genève cal 285 comportant un cadran à 12 heures pour avoir une horloge mémo afin de se rappeler d'un rdv par exemple.
Case: Boitier peu polie qui garde sa forme d'origine avec des angles encore bien présents et une boite bien épaisse comme à l'origine. La montre a du très peu portée aussi avec des peu de marques d'usures et un fond de boite peu marqué et non piqué.
Dial: Rare et en bon état, En bel état de conservation , d'origine non repeint très beau cadran deux tons index radium luminescent et aiguilles ayant pris une belle patine orangé.
Diameter : 37mm
Bracelet: Bracelet Cuir style vintage.
Accessories: None
Return policy
Return policy
Return policy All watches sold have a 3 days return policy. If you are not satisfied with your purchase, please contact us by email or phone, then return the watch in the exact same condition as received and we will refund you within 10 days after we fully inspectied the watch received back in our offices at your expense. We will not refund any watches beyond the 3-days inspection period following the delivery. Paris Heure cannot be held responsible for any damage or loss from the date of delivery of the watches. If there is a problem when the watch is sent back the client Paris Heure cannot be held responsible , the client has to take his own insurance with the shipping company at his cost, we can help you with this.
Delivery
Delivery
Delivery : Buyers are responsible for all additional customs fees, duties, or taxes. All shipments are sent fully insured via Malca Amit who primarily uses Fedex. A tracking number will be given to you after collection of the package. In case of loss or theft of packages, a refund will only be made after approval of the insurance claim by our insurance provider Malca Amit.
Guarantee
Guarantee
Guarantee : All watches are guaranteed for 6 months for normal use. For vintage watches that are not waterproof, there is no guarantee of water resistance. In the caseof a water resistance problem linked to the non-screwing of the crown, the warranty is also void. In the case of shocks to the watch, the warranty is void. Normal use only qualifies for the 6-month warranty.
Description
Our opinion: Les chronographes Aerocompax ont été principalement produits par Universal Genève et les versions étanches comme celui-ci sont très recherchés et la production à l'époque était assez faible comparé aux autres chrono, surtout dans le boîtier étanche avec des poussoirs ronds. C'est d'autant plus rare qu'il a été réalisé par Girard Perrégaux un seul vu dans cette configuration. La base du calibre est très proche de celle utilisée par Universal à l'époque, le calibre 285 avec la fonction mémo à 12 heures. Grand diamètre de 37 mm pour l'époque et cadran bicolore avec 4 compteurs ainsi qu'une très belle patine. Montre rare en version acier étanche et de la marque Girard Perrégaux.