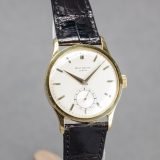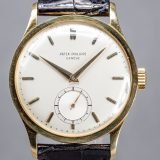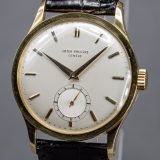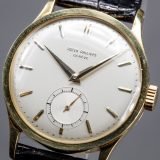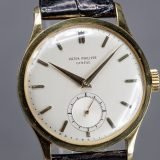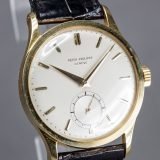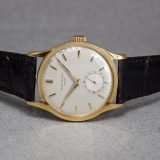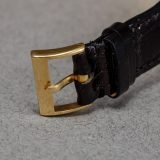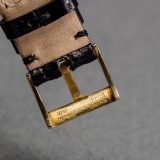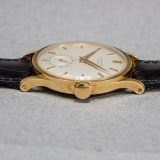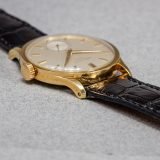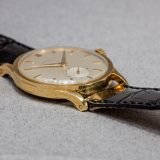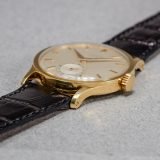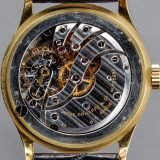 PATEK PHILIPPE OVERSIZE CALATRAVA REF 570 GOLD 18K 750 ARCHIVES LIKE NEW from 1955 ( STOCK PH WATCHES )
Marque : Patek Philippe
Modèle : Calatrava
Mouvement : Mécanique à remontage manuel Cal. 12-400
Référence : 570 YG
Diamètre : 36 mm
Year: 1955 vendu en 1956
Boîtier : Beau boîtier peut-être jamais poli en or jaune avec des cornes épaisses 18 carats très spéciales et rares et un fond clippé. Couronne avec logo PP. Poinçons dans un état parfait
Dial: Beau cadran blanc argenté d'origine avec une sensation de deux tons avec le sous-cadran de la petite trotteuse, les aiguilles Dauphine et les index bâtons appliqués en or, la minuterie perlée et la petite seconde à 6 heures.
Bracelet : Cuir et boucle Patek Philippe en or 18 carats
Accessoires : Archives Patek Philippe montre vendue en 1956 et produite en 1955.
Return policy
Return policy
Return policy All watches sold have a 3 days return policy. If you are not satisfied with your purchase, please contact us by email or phone, then return the watch in the exact same condition as received and we will refund you within 10 days after we fully inspectied the watch received back in our offices at your expense. We will not refund any watches beyond the 3-days inspection period following the delivery. Paris Heure cannot be held responsible for any damage or loss from the date of delivery of the watches. If there is a problem when the watch is sent back the client Paris Heure cannot be held responsible , the client has to take his own insurance with the shipping company at his cost, we can help you with this.
Delivery
Delivery
Delivery : Buyers are responsible for all additional customs fees, duties, or taxes. All shipments are sent fully insured via Malca Amit who primarily uses Fedex. A tracking number will be given to you after collection of the package. In case of loss or theft of packages, a refund will only be made after approval of the insurance claim by our insurance provider Malca Amit.
Guarantee
Guarantee
Guarantee : All watches are guaranteed for 6 months for normal use. For vintage watches that are not waterproof, there is no guarantee of water resistance. In the caseof a water resistance problem linked to the non-screwing of the crown, the warranty is also void. In the case of shocks to the watch, the warranty is void. Normal use only qualifies for the 6-month warranty.
Description
Our opinion: Patek Philippe rare modèle Calatrava en or jaune avec ses belles cornes épaisses et son boitier clippé de grand diamètre pour l'époque OVERSIZE en 36mm, réf 570 vendu le 23 avril 1956. Cadran argent patiné confirmé par les archives, aiguilles dauphines et index bâtons appliqués or avec minuterie perlée et petite seconde à 6h. Mouvement mécanique à remontage manuel Cal. 12-400. Livré avec son extrait d'archives.